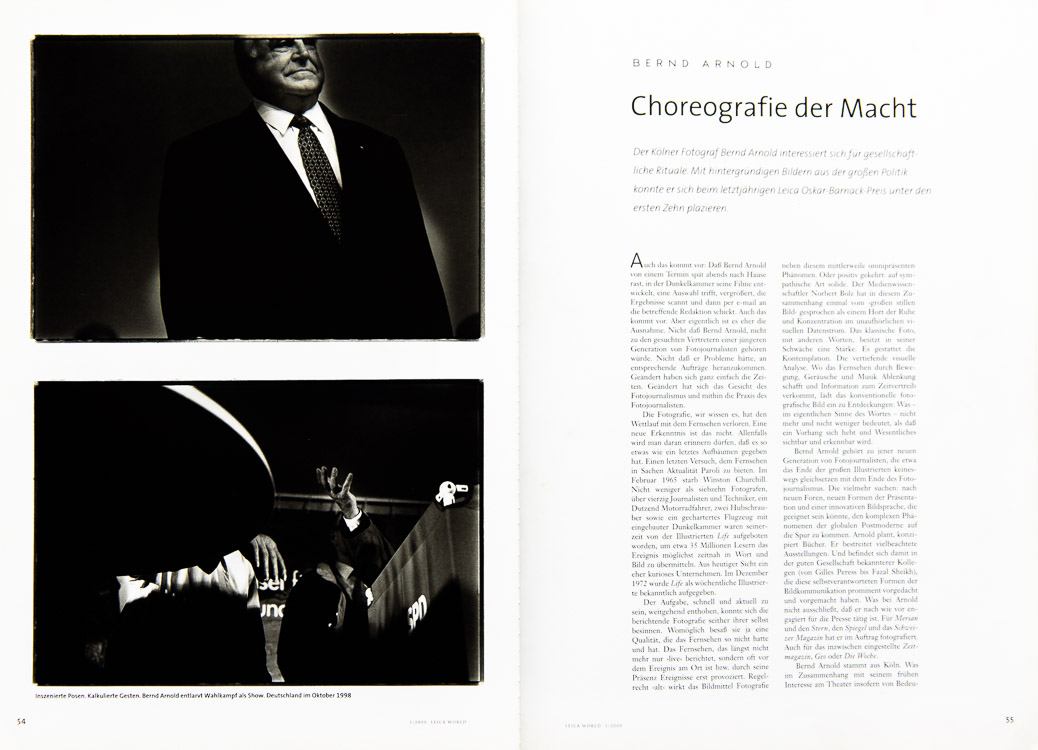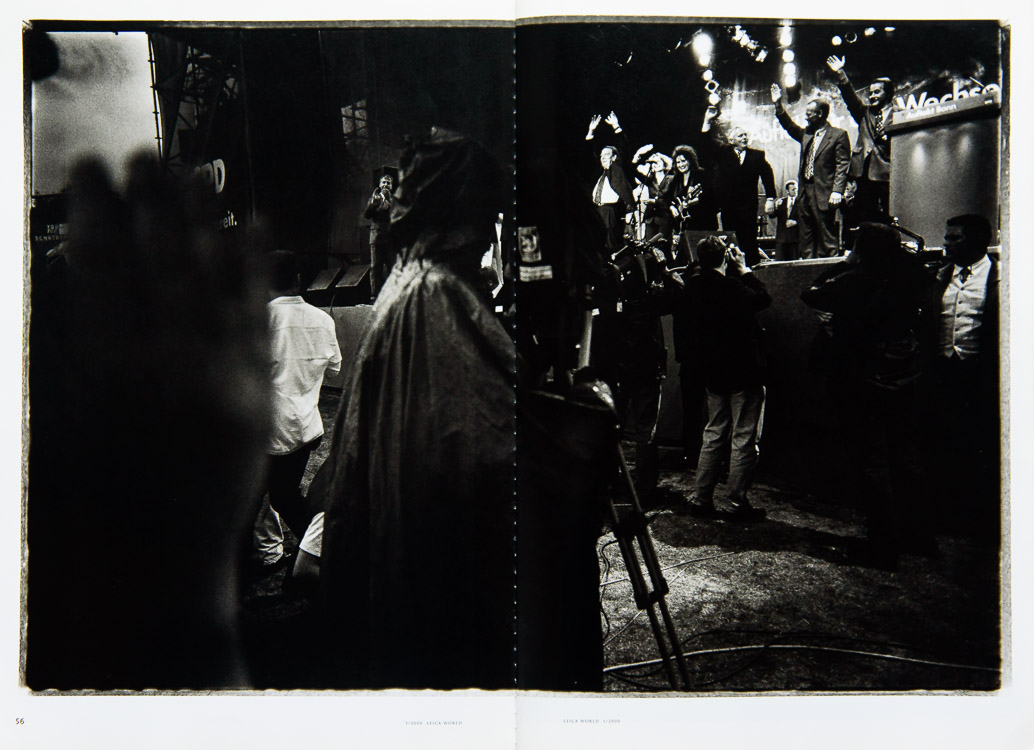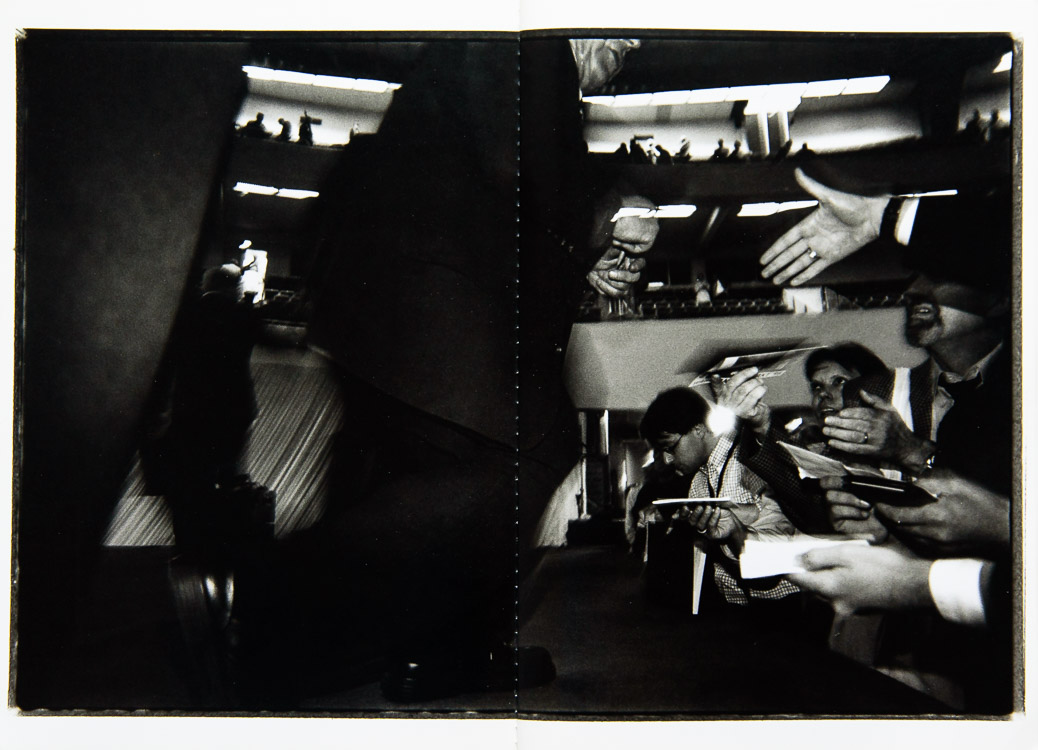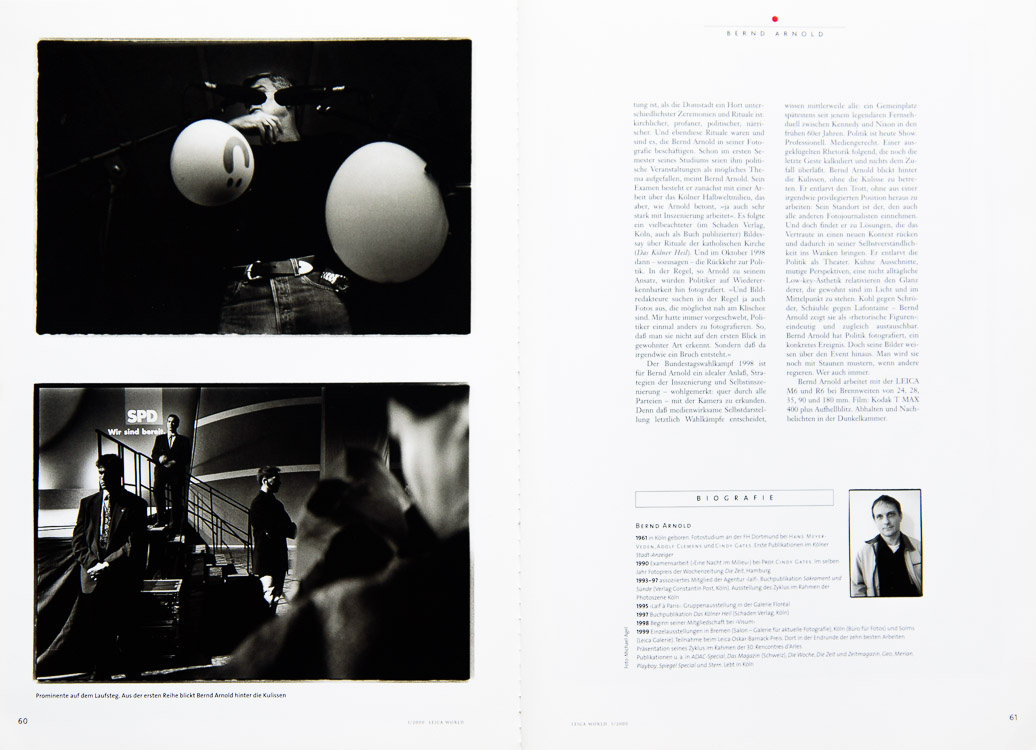 Choreography of Power
Cologne based photographer Bernd Arnold is interested in society rituals. With his background pictures of big politics he was one of the ten finalists of last year's Oskar-Barnack-Prize (1999).
Text by Hans-Michael Koetzle
This happens too: That Bernd Arnold races home from an appointment late in the evening, processes his films in his darkroom, makes a selection,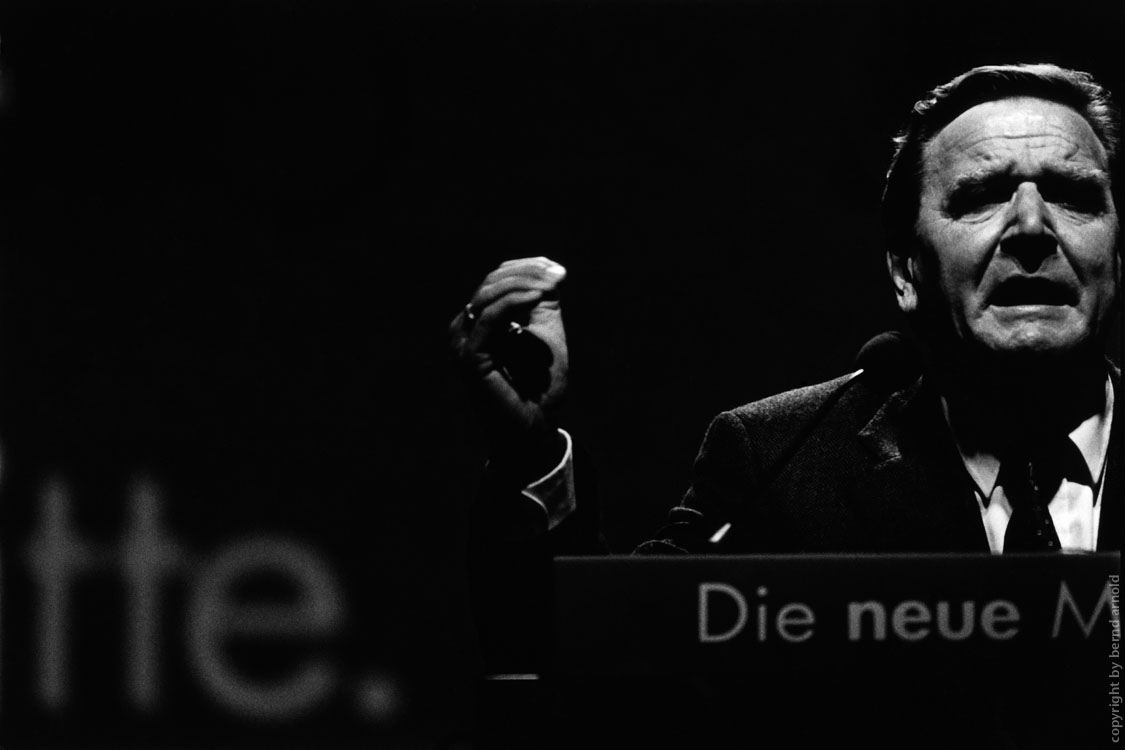 enlarges, scans the results and e-mails them to the respective editor. This happens too. But actually it is more like an exception. Not that Bernd Arnold doesn't belong to a younger generation of photojournalists. Not that he might have problems getting appropriate assignments. It's simply that the time has changed, and with it the photojournalists´ practise. Photography, as we all know, has lost the competition with television. That's not a new revelation. Nevertheless, one might remark that there was something like a last propping up. A final attempt to stands up to television in matters of current events. Winston Churchill died in February of 1965. At the time, no less than 17 photographers, more than 40 journalists and technicians, a dozen motorcycle drivers, two helicopters and a chartered aircraft with built-in darkroom were organized by Life magazine in order to convey this event to its approximately 35 million readers as closely as possible in words and pictures. From today's point of view, that was a rather curious effort. It is well known that Life ceased publication as a weekly-illustrated magazine in December of 1972.
Largely relieved of the task of being fast and up-to-date, reporting photography had to re-invent itself since then. Perhaps it had a quality that television did not and does not have that form. Television, which long since no longer broadcasts live, yet is often on site before the event or even instigates happenings by its mere presence. The pictorial medium of photography actually seems old-fashioned now, compared this phenomenon that meanwhile has become omnipresent. Or phrasing it in a positive fashion: photography has become pleasantly respectable. In this context, media scientist Norbert Bolz once referred to the "great quit picture" as a refuge of serenity and concentration in the unending stream of visual data. The classic photograph, in other words, has strength in its weakness. It allows contemplation. An in-depth visual analysis. While television provides distraction with movement, noises and music, and information is degraded to a pastime, conventional photography invites discoveries, which means - in the actual sense of the word - not more and not less that a curtain is lifted and significant content becomes visible and recognizable.
Bernd Arnold belongs to that new generation of photojournalists that does not at all equate the end of the great-illustrated magazines with the end of photojournalism. Instead, they search for new forums, new forms of presentation and of innovative pictorial expression that might serve to track the complex phenomenon of global postmodernism. Arnold plans, conceives books. He participates in highly respected exhibitions. And thus he is in the good company of better-known colleagues (from Gilles Peress to Fazal Sheikh), who have activelythought out and demonstrated these self-responsible forms of pictorial communication. Which does not prevent Arnol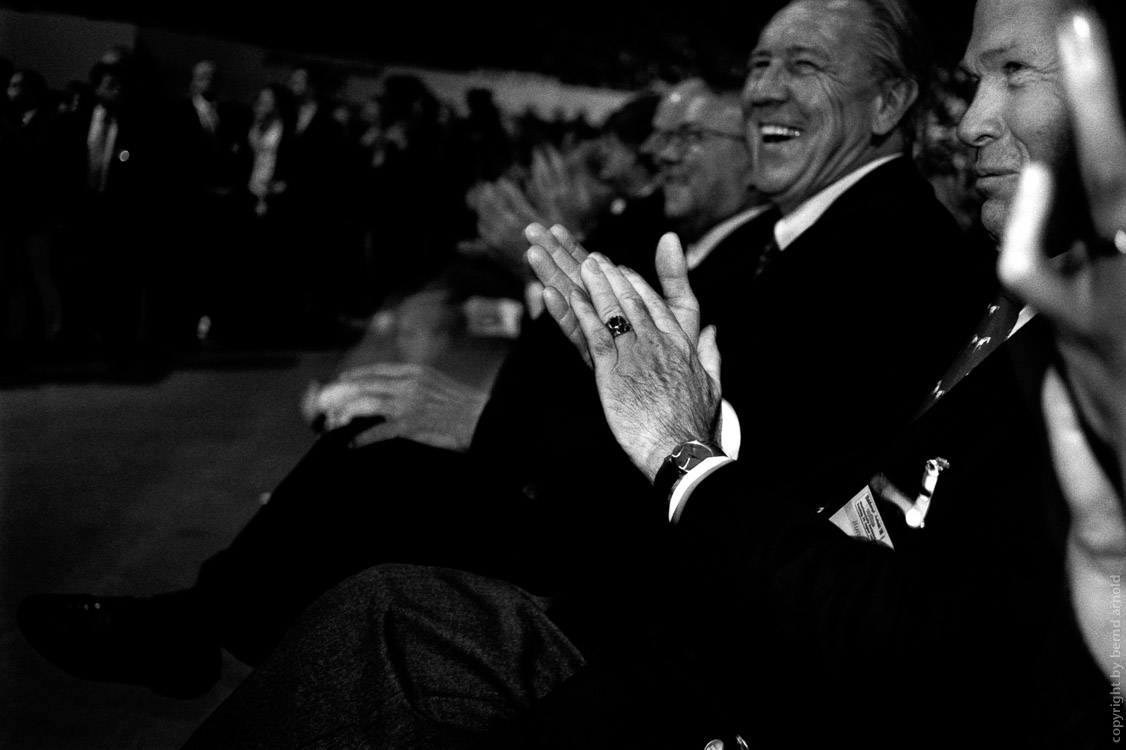 d from actively continuing his work for the press. He photographed on assignments for Merian and Stern, for Spiegel and Schweizer Magazin, also for ZEITmagazin, (which recently ceased publication), as well as GEO and Die Woche.
Bernd Arnold stems from Cologne. Which is of significance in relation to his early interest in the theatre insofar as this cathedral city is a haven for the most diverse ceremonies and rituals: religious, profane, political, and nonsensical. And these were and are the very rituals that captivate Bernd Arnold in his photography. It was already during the first semester of his studies that political events caught his eye as a possible subject, says Bernd Arnold. For one thing, he passes his exam with a paper on the milieu of the Cologne subculture, which however, as Arnold emphasizes, "also very much works with staging". This was followed by a highly regarded pictorial essay (published in book form by the Schaden Verlag in Cologne) about the rituals of the catholic church (entitled Das Kölner Heil). And then, in October 1998 came - in a manner of speaking - his return to politics. As a rule, according to Arnold and referring to his beginnings, politicians are photographed for recognition purposes, "And picture editors usually select photos that are as close as possible to the clichés. I always envisioned photographing politicians in a different way, so that one wouldn't recognize them in the conventional manner at first glance. Instead, a disruption should result somehow."
The German federal election campaign of 1998 was an ideal opportunity for Bernd Arnold to explore the staging and the self-staging - mind you: clear across all the parties - with his camera. In the meantime everyone is well aware of the fact that, in the final analysis, an effective personal presence before the media decides the results of campaigns; a platitude at least since that legendary television duel between Kennedy and Nixon in the early sixties. Politics today is showmanship. Tailored to the media. I follow a carefully crafted rhetoric that choreographs even the smallest gesture and leaves nothing to chance. Bernd Arnold looks behind the scenes without stepping into them. He exposes the routines without workin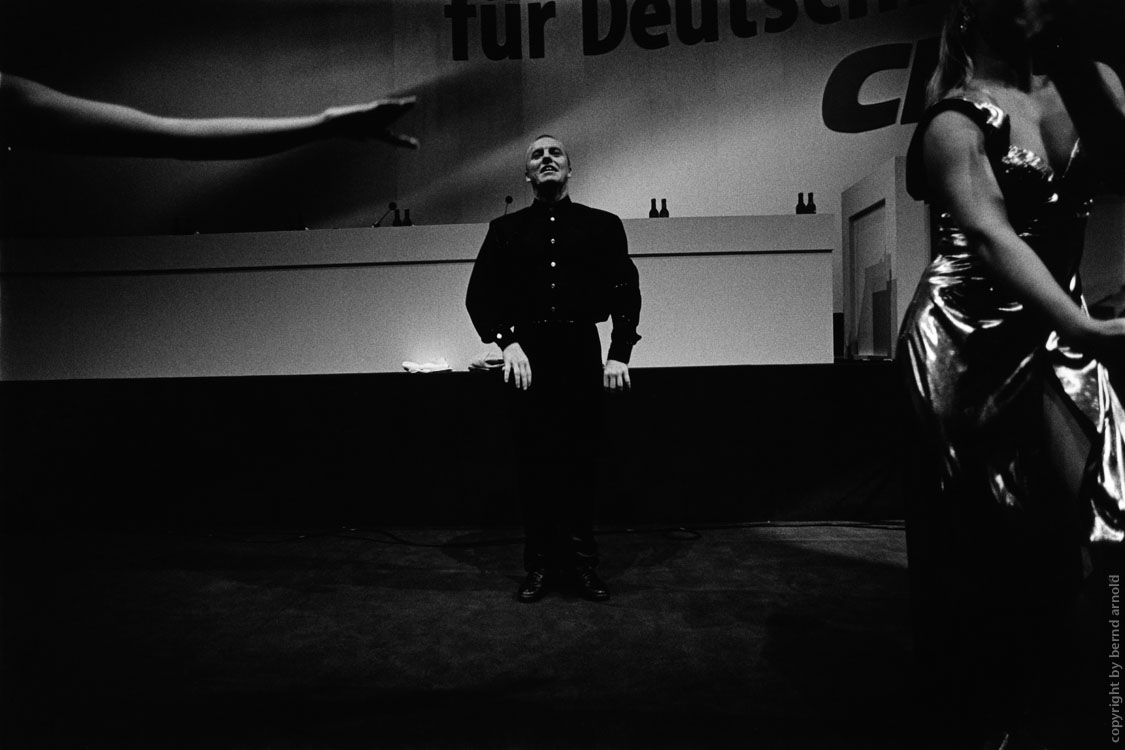 g from a somehow privileged position. His position is the same as that also shared by all the other photojournalists. And yet he finds solutions that place the familiar in a new context that challenges its accepted perception. He exposes politics as theatre. Daring cropping, unconventional perspectives, an unusual low-key aesthetics challenge the splendour of those who are accustomed to being in the limelight and in the centre of attention. Kohl against Schröder, Schäuble against Lafontaine - Bernd Arnold depicts them as "rhetoric figures", unequivocal yet interchangeable, Bernd Arnold has photographed politics solid events. But his pictures transcend the events. They will still are already in power. Whoever it might be.
Choreography of Power in LeicaWorld 1/2000
Text © Hans-Michael Koetzle
Photography © Bernd Arnold
The rituals of election campaigns is a part of the cycle POWER AND RITUAL.



Download and Vintages